Top Five Things To Look For In An Accounting Company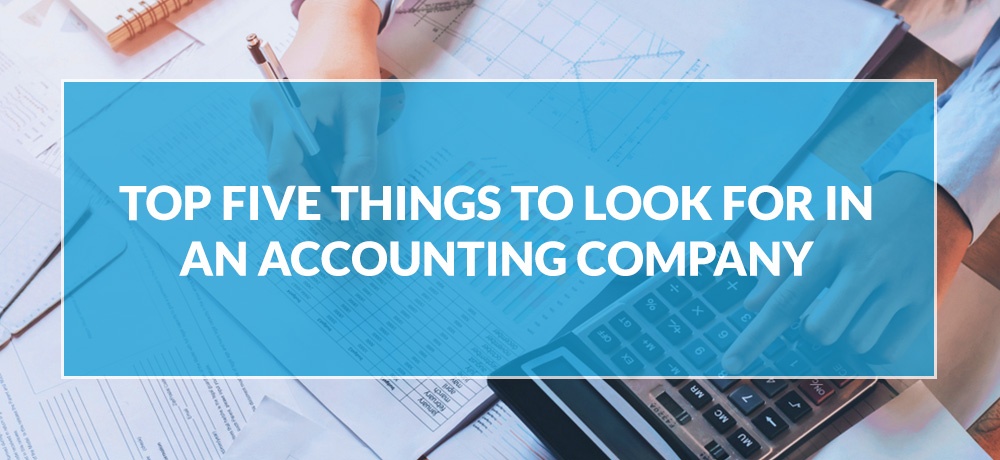 If you are a small business and you have spent hours adding up your year-end accounts, filled out the tax returns, etc., you will know that managing your accounts can be taxing. Moreover, as you may not have the skills necessary to do the job, the time you spend on it may be futile if they need to be done again. If you find yourself in a similar situation, it's time to get yourself or your business an accountant.
Accountants are professionals who can help you maintain your books, save you money on tax, and are far less likely to make mistakes that could prove to be costly. Once you have made your decision to hire a professional, the next step is choosing the right accountant or accounting firm for you. Choosing one that suits your needs can be hard. Therefore, to simplify the task, here's a list of the top five things to look for in an accounting company.
1. Experience
You'll need someone with experience preparing tax returns and financial documents for companies of a similar size and revenue to yours. Make sure you understand their flexibility with accounting applications. Also, inquire to understand if they've worked with companies in similar industries to yours. Finally, ask about their success stories or rather success stories of their clients.
2. Proactive Involvement
Look for someone who's proactive in looking for opportunities to improve your bottom line. Some accountants will do little more than manage your accounts and complete your tax return forms, but the best accountants are more proactive. So before choosing an accountant, ask what they could suggest to save your business money or other opportunities to help you grow your business.
3. Relationship
Look for an accountant or accounting firm where you are more than just a number. Someone who is personable and looks to understand your business and personal goals, and then works with you to implement a plan to achieve those goals.
4. Availability
A key part of success is communication. Look for an accounting resource where cell phones, texts, and other forms of communication are just a part of everyday business. There is no set business operating hours for a client in need. At Numbers Up, we are part of your team and available via all communication options.
5. Ethical Commitment
Look for someone or a firm with a strong reputation. Inquire within your network, speak with references. You need someone who will shoot straight with you, whether it's sharing good news or bad news. Informed decisions and the integrity of your financial data lead to optimal decisions for your business.
If you're looking for an accounting company in Westerville, OH, reach out to Numbers Up, LLC.
We help businesses by offering a full line of accounting and tax services. We also provide advisory services, mergers and acquisitions consulting, payroll, business filings, record keeping, negotiations, and other back-office functions to keep your business in its best health. We serve clients across Westerville, Franklin County, Delaware County, Crawford County, Marion County, and Licking County, OH.
To learn more about the services we offer, please click here. To get in touch with us, please click here.
---
---