Why You Should Choose Numbers Up, LLC!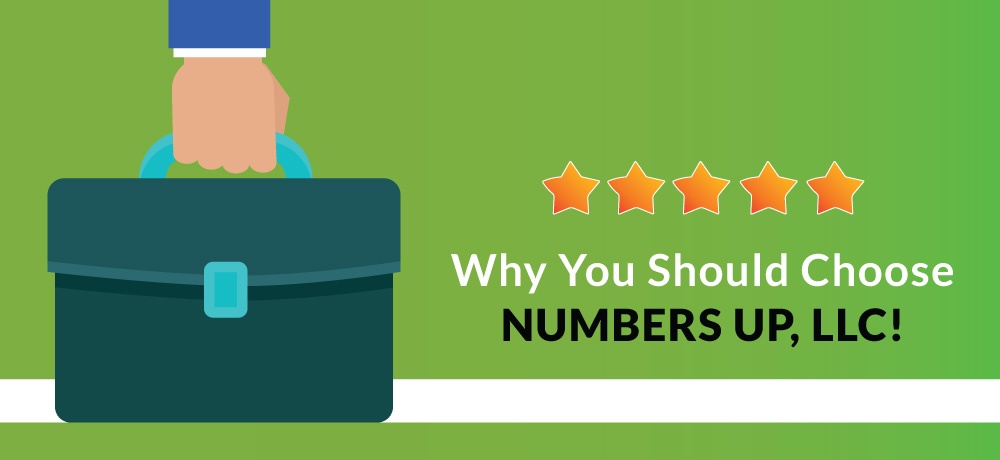 Balancing the books and looking after the accounting and tax needs of your business may not be your forte. Moreover, managing the financial aspects of your business in an optimal manner might be difficult due to the ever-changing guidelines and regulations. Therefore, it's advisable to enlist the services of an accounting company to fulfill the accounting and tax needs of your business.
If you're looking for an accounting company, you need to put in a sufficient amount of research to find someone that matches your expectations. You also need to go through reviews you find online and speak to people who've worked with them.
At Numbers Up, LLC, we are confident about the services we provide and will not shy away from giving you references. We will be happy to tell you why we are the top name in the accounting sector.
The staff at Numbers Up have served in a variety of roles in both public and private companies ranging from senior financial and tax positions to general accounting support functions. If you're looking for an accounting firm, here are a few more reasons why we stand out from the rest.
Years of experience
We have over thirty years of experience in assisting people with their tax preparation and accounting needs. We have been instrumental in helping businesses reach new heights by providing them with the best solutions for their organizations.
CPAs on staff
We have qualified and knowledgeable professionals who can assess your needs correctly to provide you with ideal solutions. We have CPAs, who know the ins and outs of the accounting and tax sectors and ensure that you are given authentic and genuine services.
Personalized solutions
At Numbers Up, LLC, we don't offer a one-fit-for-all solution. Instead, we evaluate your business and finances carefully and meticulously to develop a solution that best suits your needs. You will never have to worry about the administration time associated with personnel management in covering vacations, sick time, etc. We work to ensure all operational activities are supported by multiple resources so there is no disruption of services.
A variety of services
We offer topnotch corporate operational accounting, tax, and advisory services. Through our services, we can help you file your taxes, reduce your tax liabilities, manage your books, regulate your cash flow, and provide financial reporting information that helps guide decisions to create the best growth opportunities for your organization.
Defined scope of work within agreed-upon budgets
We understand the need to work within the framework of a budget when it comes to hiring your accounting and tax resources. Our process is to understand your business needs and goals and develop a scope of services that will provide the best solution, to your organization, within a budget that works for you.
As a leading accounting company in Westerville, OH, we ensure that we exceed expectations by giving you the most comprehensive services. We help businesses by offering a full line of accounting and tax services. We also provide advisory services, mergers and acquisitions consulting, payroll, business filings, record keeping, negotiations, and other back-office functions to keep your business in its best health. We serve clients across Westerville, Franklin County, Delaware County, Crawford County, Marion County, and Licking County, OH.
To learn more about the services we offer at Numbers Up, LLC, please click here. If you have any questions about how we can help you, get in touch with us by clicking here.
---
---